Our Dental Services in Santa Maria
Get high-quality, gentle care personalized that's affordable
Dr. Nguyen and her caring staff offer affordable care for you and your family's dental needs. Dr. Nguyen performs gentle, state-of-the-art procedures within a patient-friendly atmosphere for a more enjoyable dental experience.
She keeps up-to-date when it comes to advances in smile care by taking numerous continuous education classes in all facets of general dentistry. By adding personalized care to her superior training and technical skills, Dr. Nguyen is able to offer you top-quality dental care in comfort.

Our Dental Services
Porcelain Veneers
Lumineers No-Prep Veneers
Teeth Whitening
Cosmetic Dental Bonding
Extractions – If you need a tooth extraction, Dr. Nguyen can handle these in most cases. More difficult wisdom tooth extractions may be referred to an oral surgeon. If your tooth is salvageable she will let you know your options for keeping it.
Mouth guards – These are coverings worn over the teeth and are used to protect them from injury caused by grinding the teeth during the night. If you break or lose your mouth guard, Dr. Nguyen will even give you a free replacement. Dr. Nguyen also provides athletic mouth guards used in sports.
Ensuring your comfort
Here at Santa Maria Dental Group we've transformed dental care from an uncomfortable experience into a relaxing and rewarding one. From the minute you walk through our doors our pleasant atmosphere will begin putting you at ease.
Dr. Nguyen and her friendly staff do a wonderful job of relaxing patients. They'll listen to your concerns, answer all of your questions and do their best to ensure you are comfortable throughout your visit.
You'll also be glad to know Dr. Nguyen has received advanced training on performing the latest dental procedures, including an especially gentle numbing technique. At Santa Maria Dental Group, your comfort is very important to Dr. Nguyen. That's why she offers:
Cable TV in the lobby
Blankets if you are cold
Pillows for longer procedures
Noninvasive diagnostics
DentalVibe pain blocker
Advanced Technology
Dr. Nguyen uses the latest dental procedures, equipment and materials. In addition to giving you progressive ways to get a beautiful, healthy smile, her leading-edge techniques are probably gentler than the dentistry you're used to getting. You'll quickly discover she is a caring dentist with an extremely gentle touch.
You'll also discover that Dr. Nguyen cares about her patients. She'll take the time to get to know you and listen to your concerns so that she can create a personalized dental plan that's right for both you and your budget. Your satisfaction is her ultimate goal.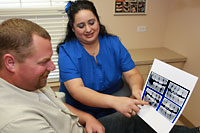 Digital X-rays
Digital x-rays are more comfortable and accurate than conventional x-rays. These high-speed x-rays use 80% less radiation than standard x-rays yet produce a nearly instantaneous image with the ability to use color contrast in the image.
Intraoral Camera
This is a tiny digital camera that fits comfortably in your mouth. The camera is located in the tip of the intraoral wand and transmits real-time video for you and your doctor to review. Our intraoral camera lets Dr. Nguyen show you your smile in detail, which is enlarged on a computer screen in either movie or still image format.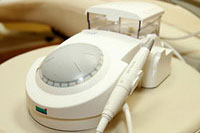 Ultrasonic Cleanings
Ultrasonic scalers vibrate at a frequency that breaks down bacterial and removes tarter, calculus and plaque without harming your teeth like traditional scrapers can. Ultrasonic scaling is usually more comfortable and efficient than hand scaling, too.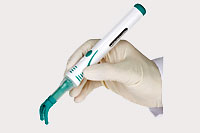 DentalVibe®
DentalVibe is an award winning device that uses vibration to block the sensation of pain. So when you get a shot, you don't feel it. There are no pills to take, no gas to inhale and no drowsy after-effects to worry about.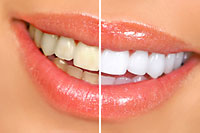 Sapphire Teeth Whitening System
Our in-office Sapphire teeth whitening system uses a combination of a revolutionary tooth whitener plus a safe and painless bleaching laser for optimum results. With Sapphire Dr. Nguyen can whiten your teeth individually to create a uniform look. She also has a take home version of Sapphire so you can whiten your teeth in the convenience of your own home if that is your preference.
To make an appointment, call us at 805.349.7999 or
click here
to request an appointment online.
Back to the top